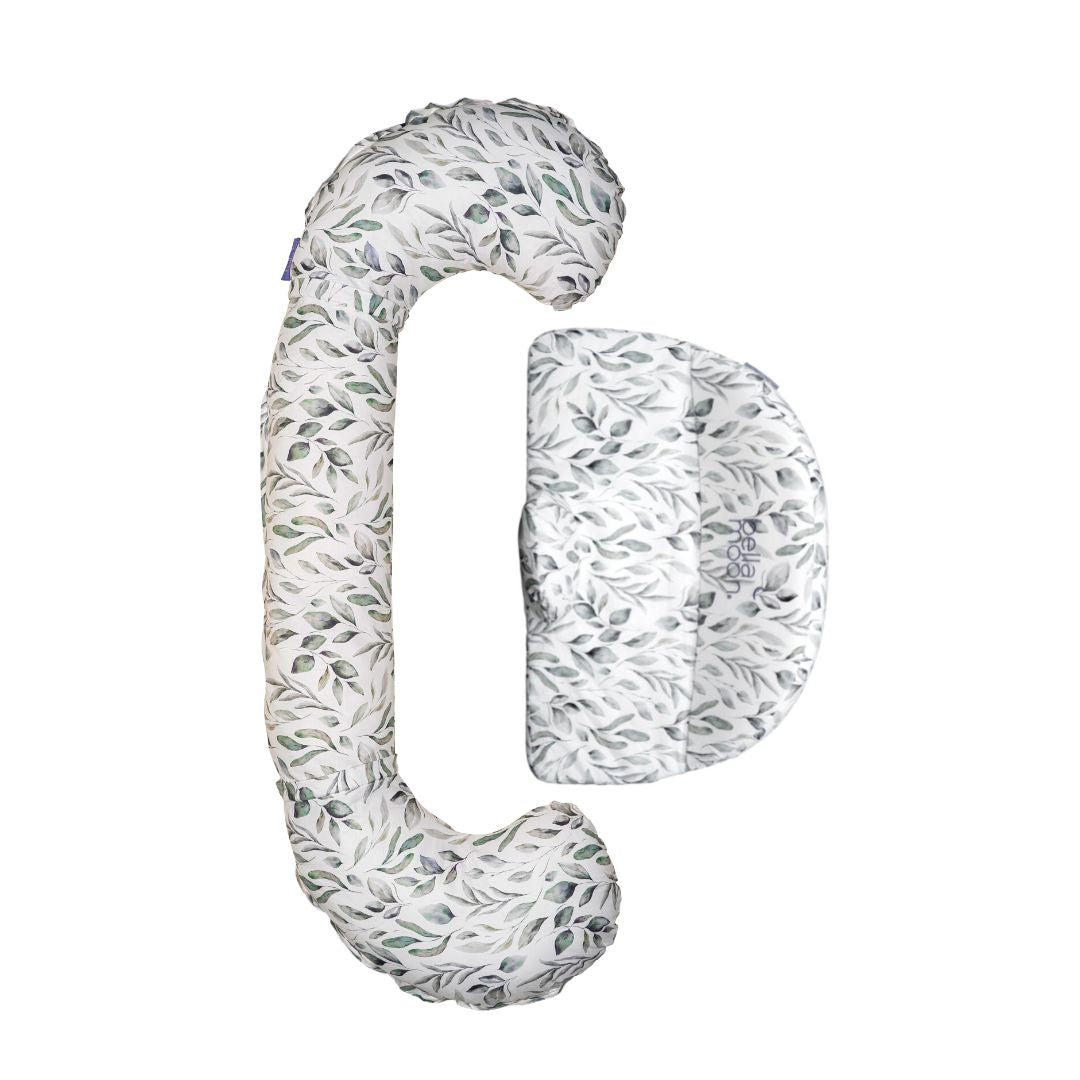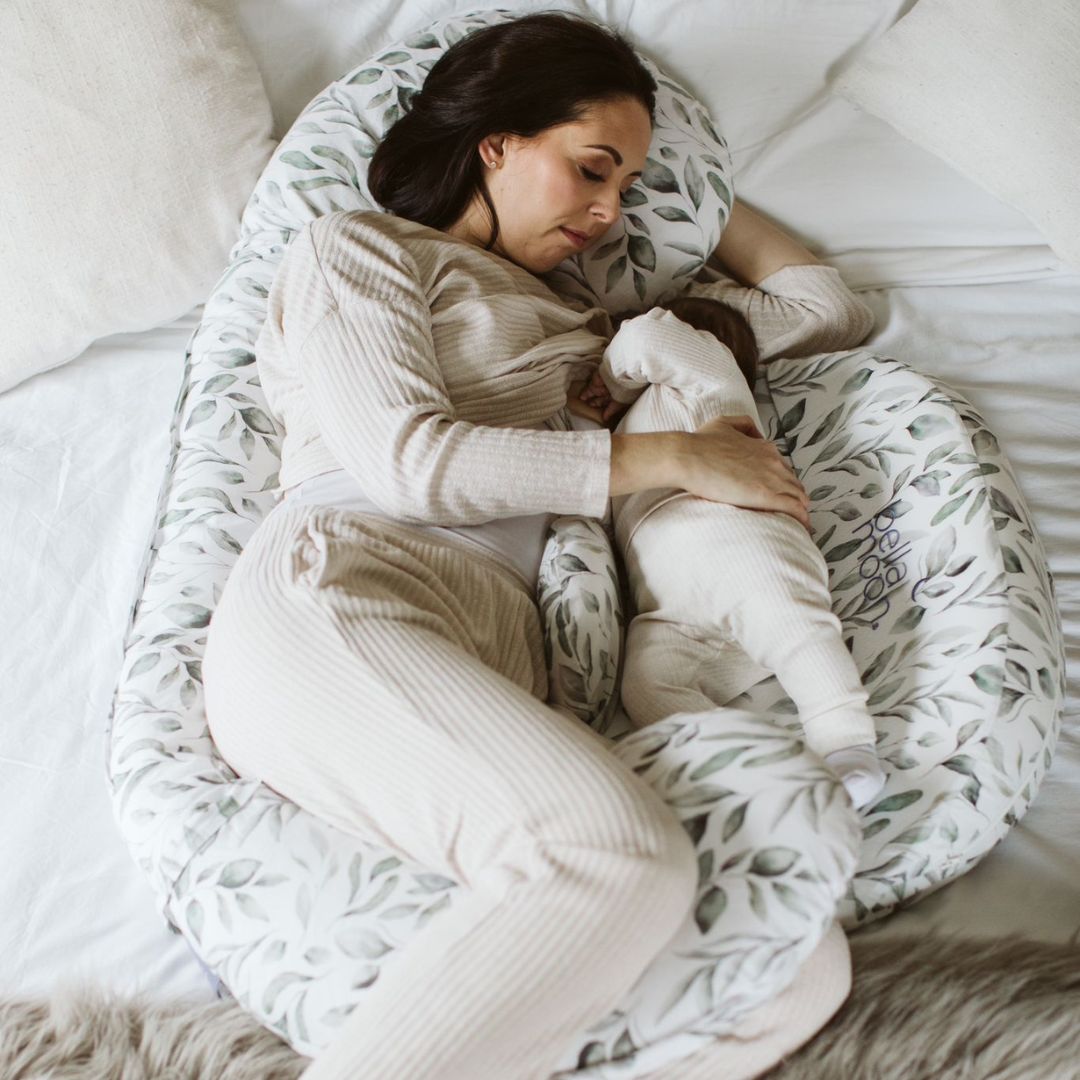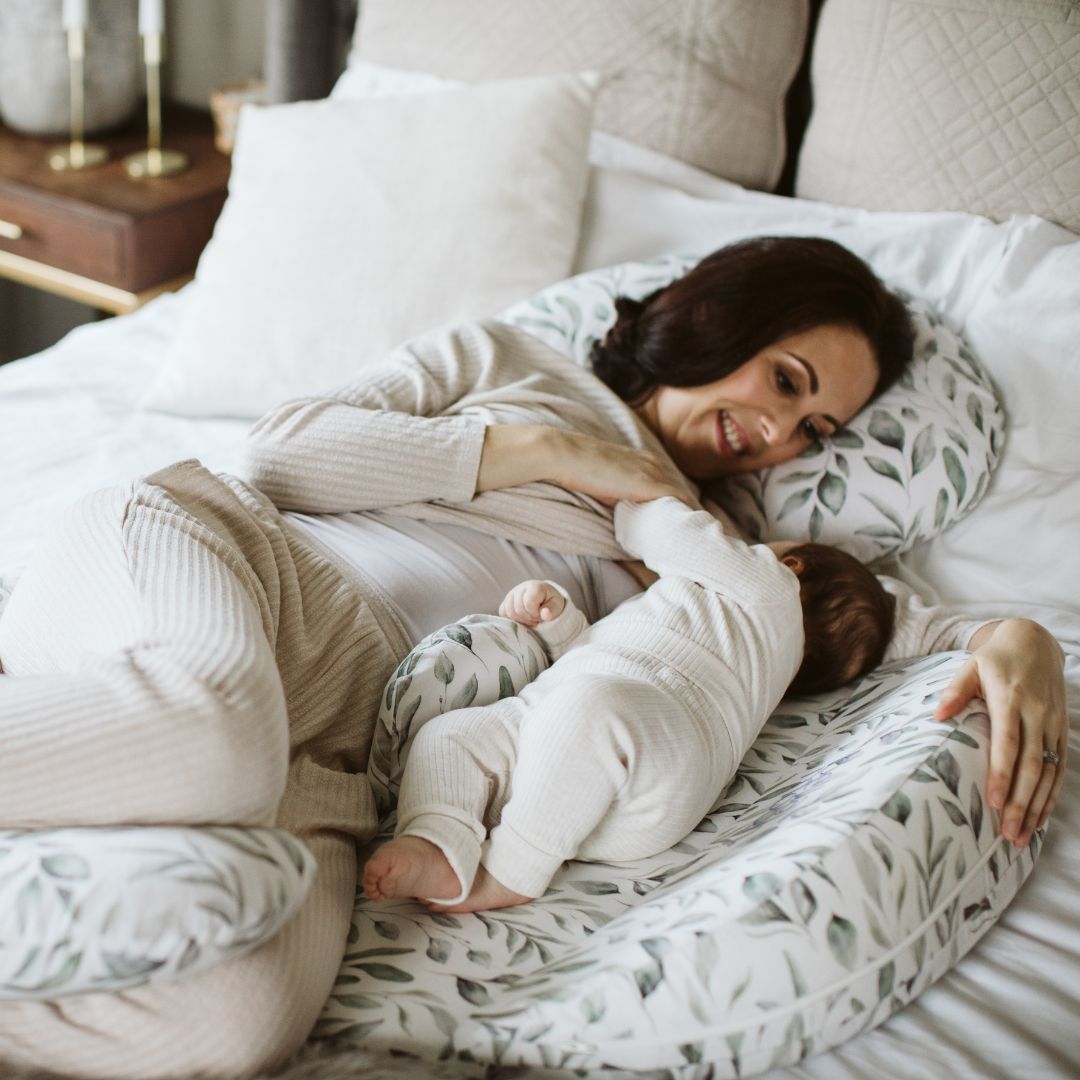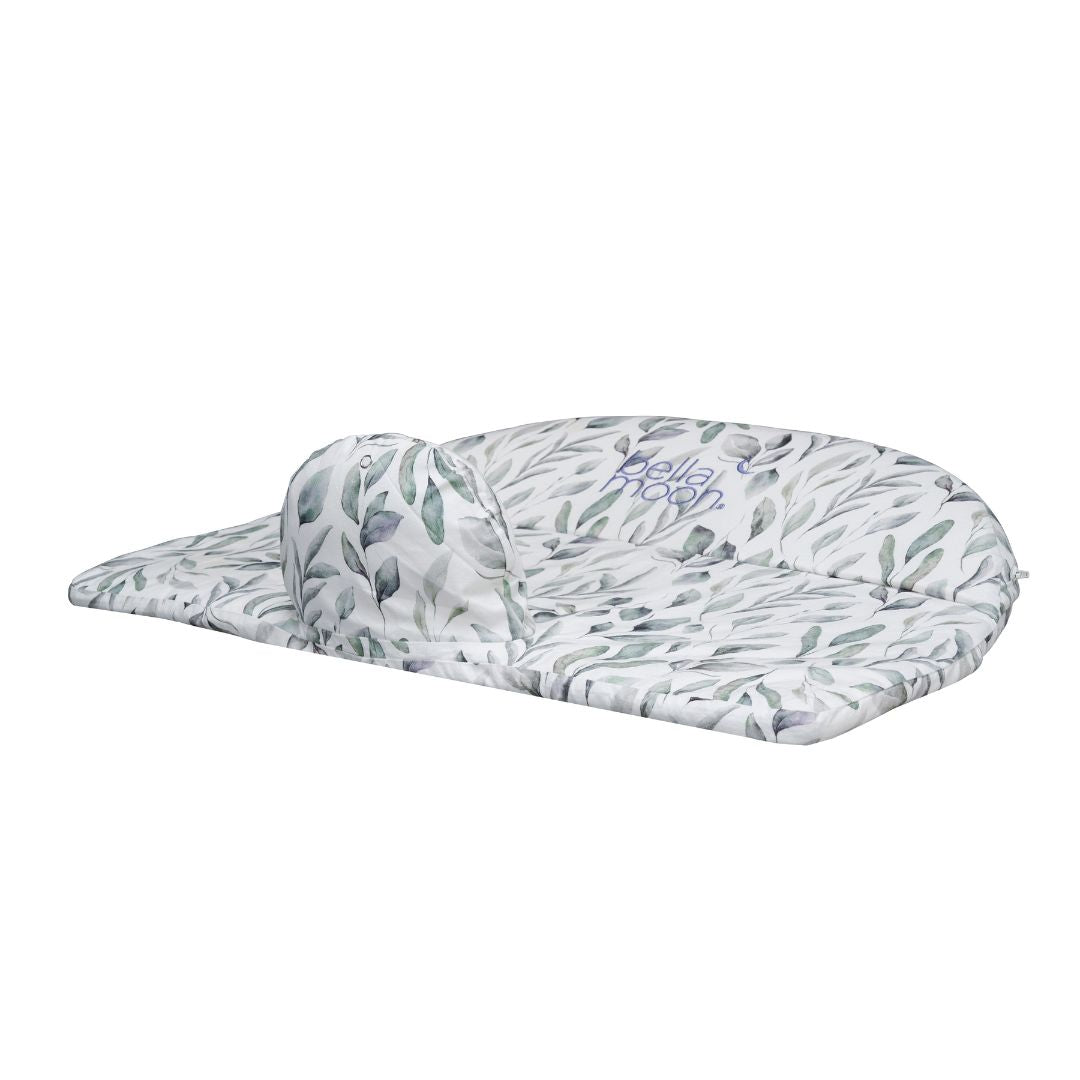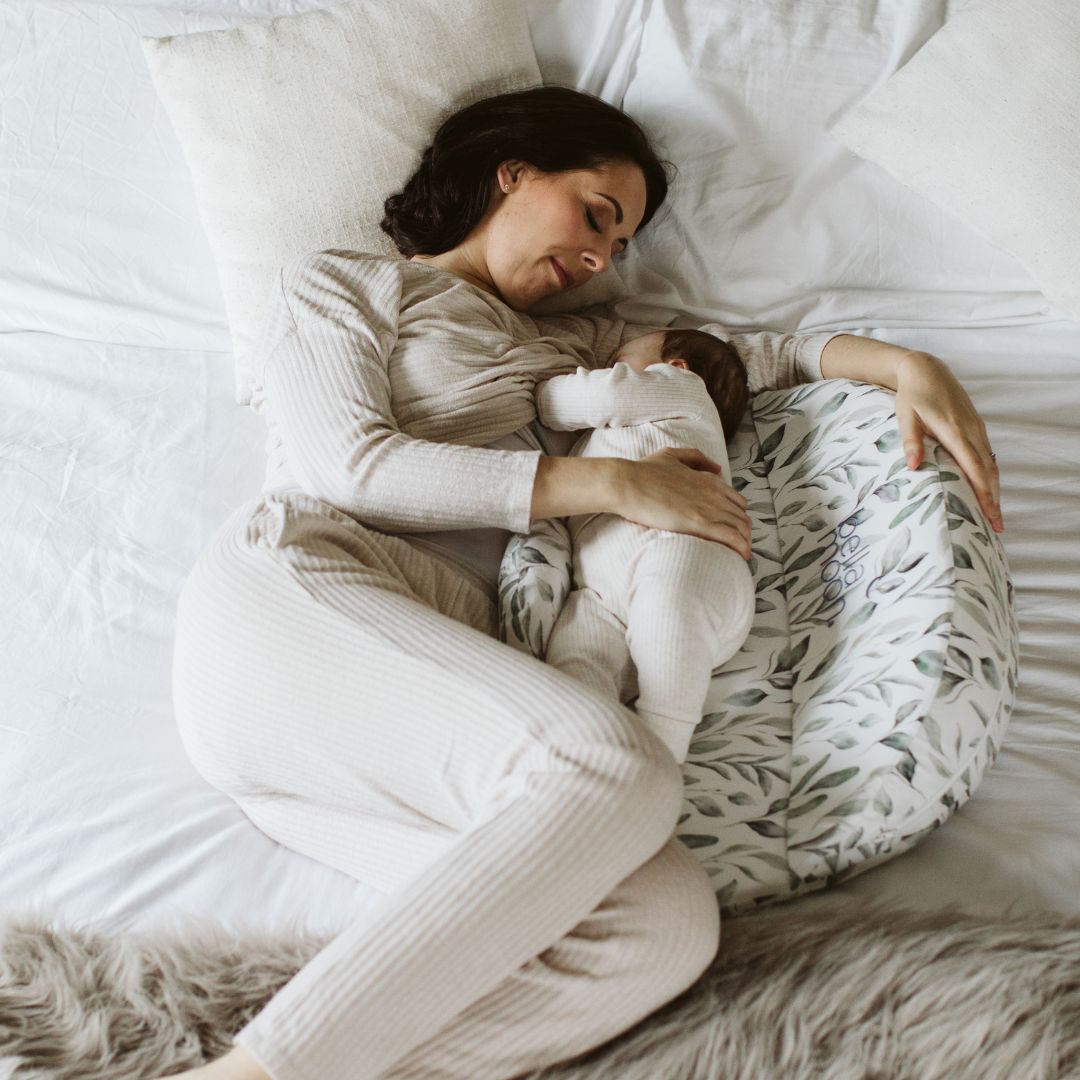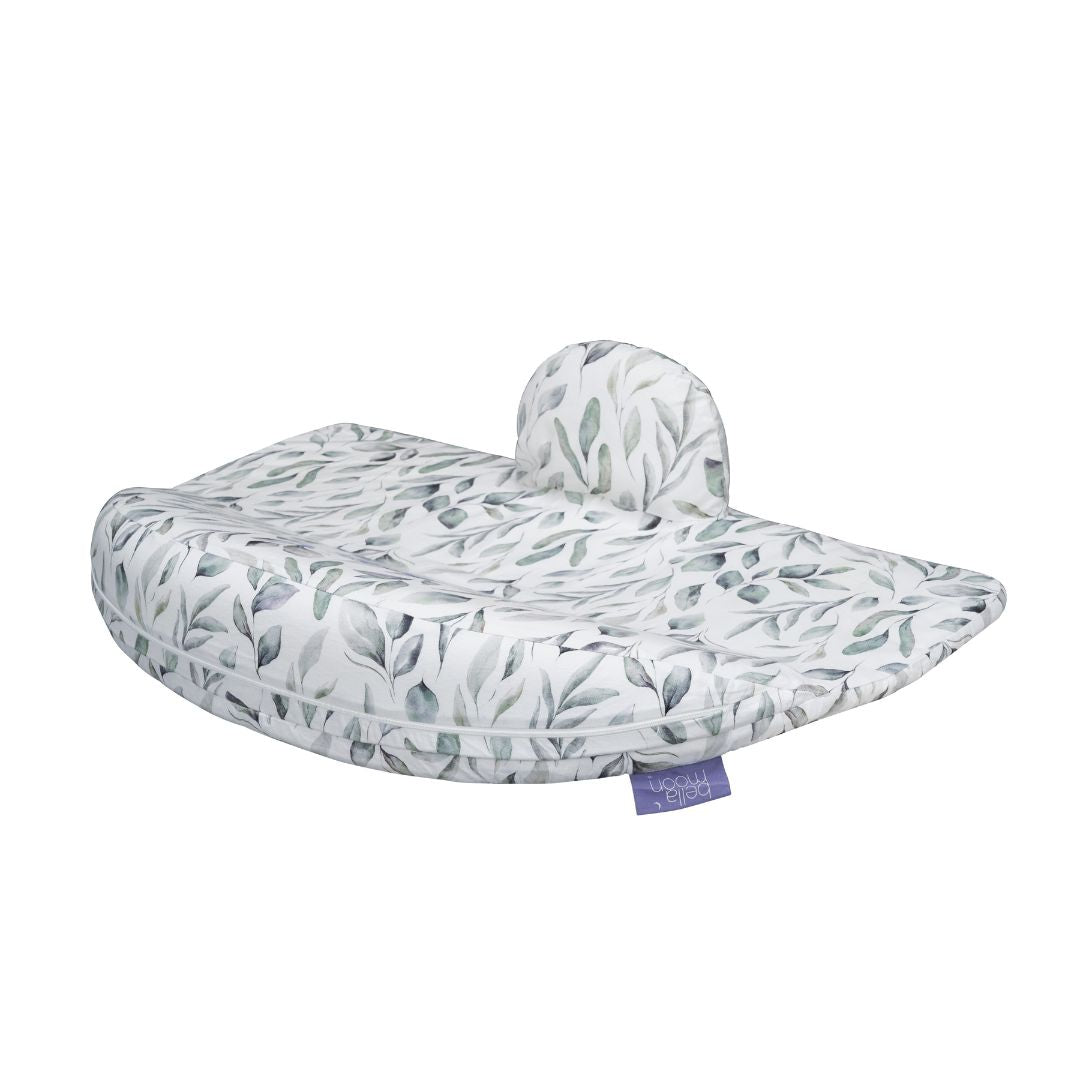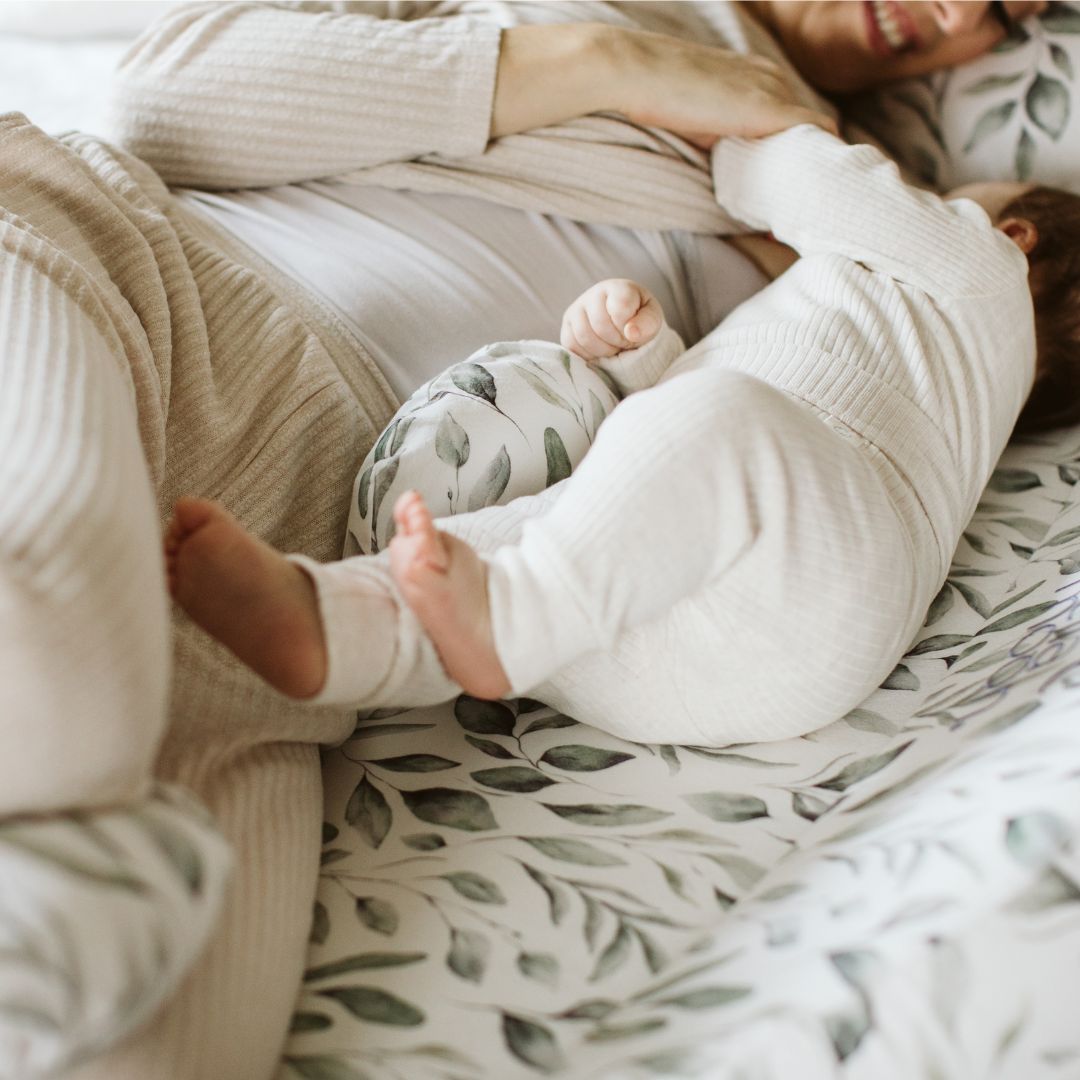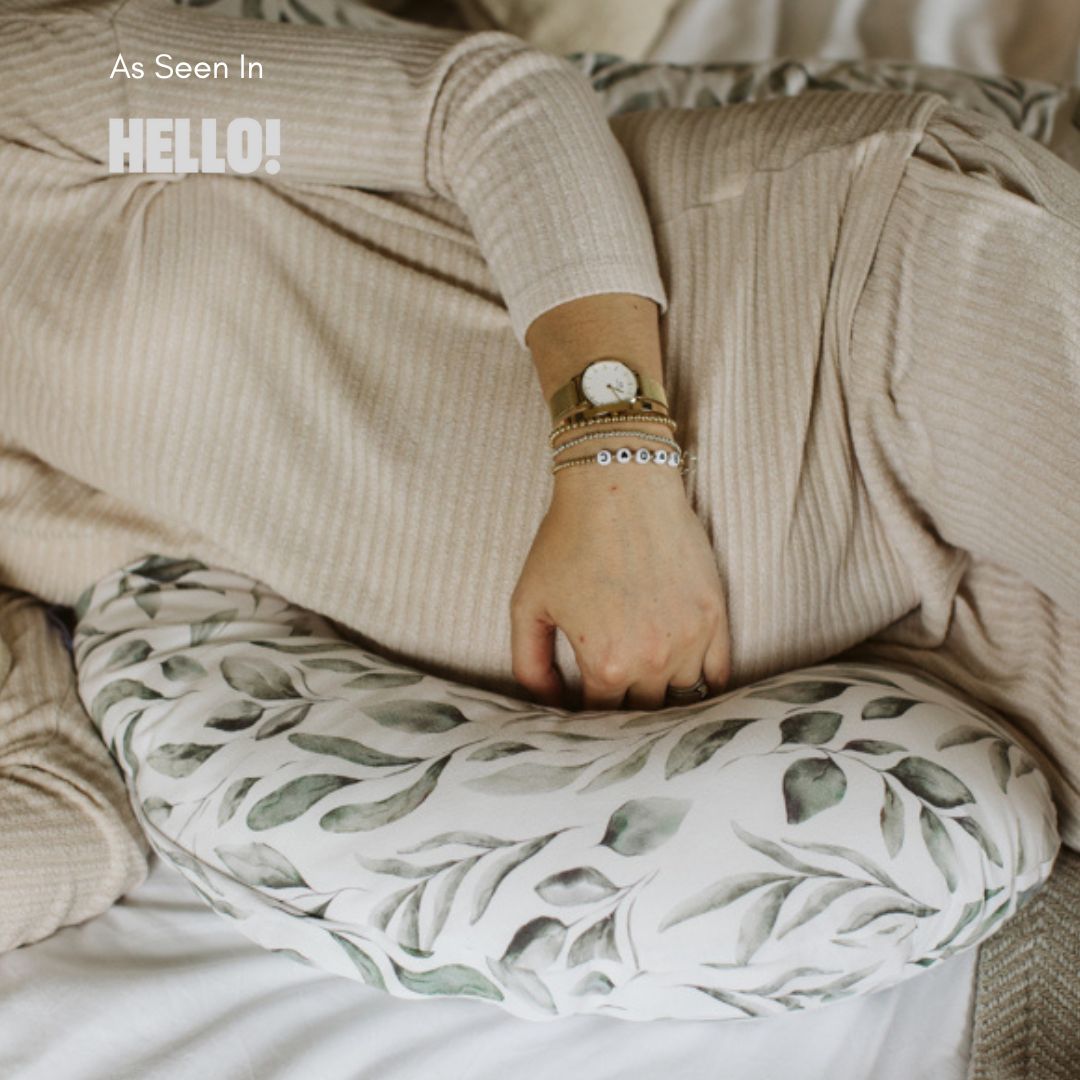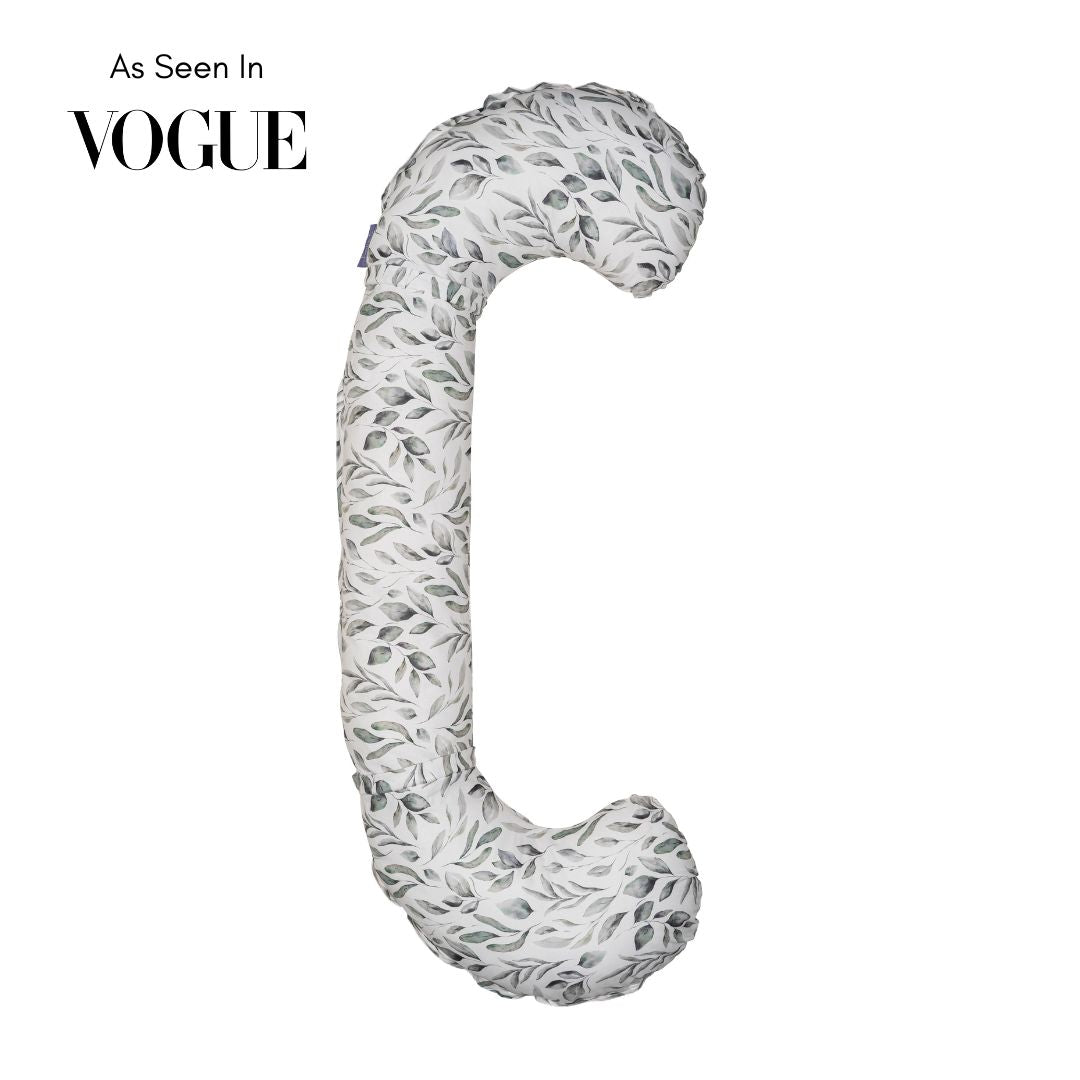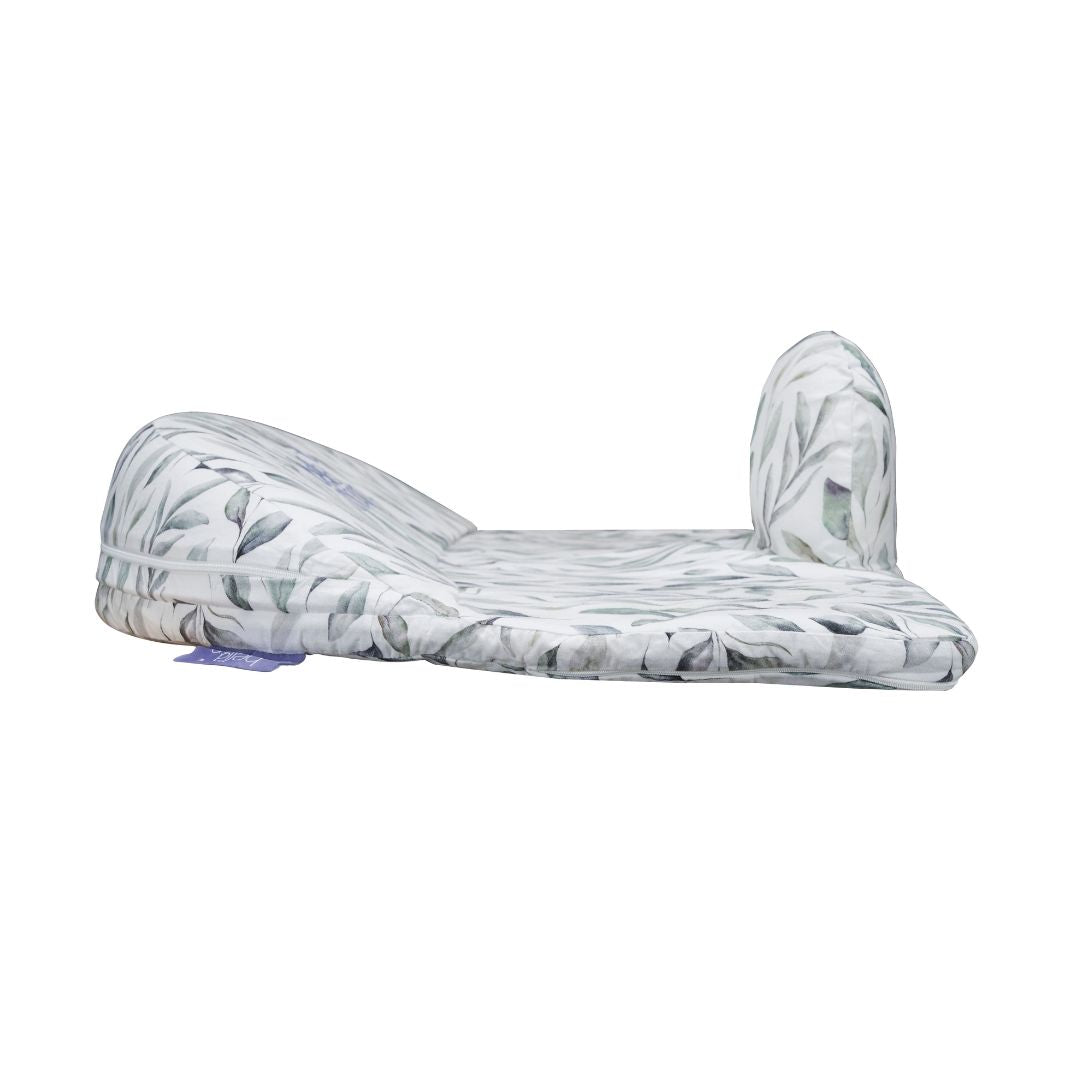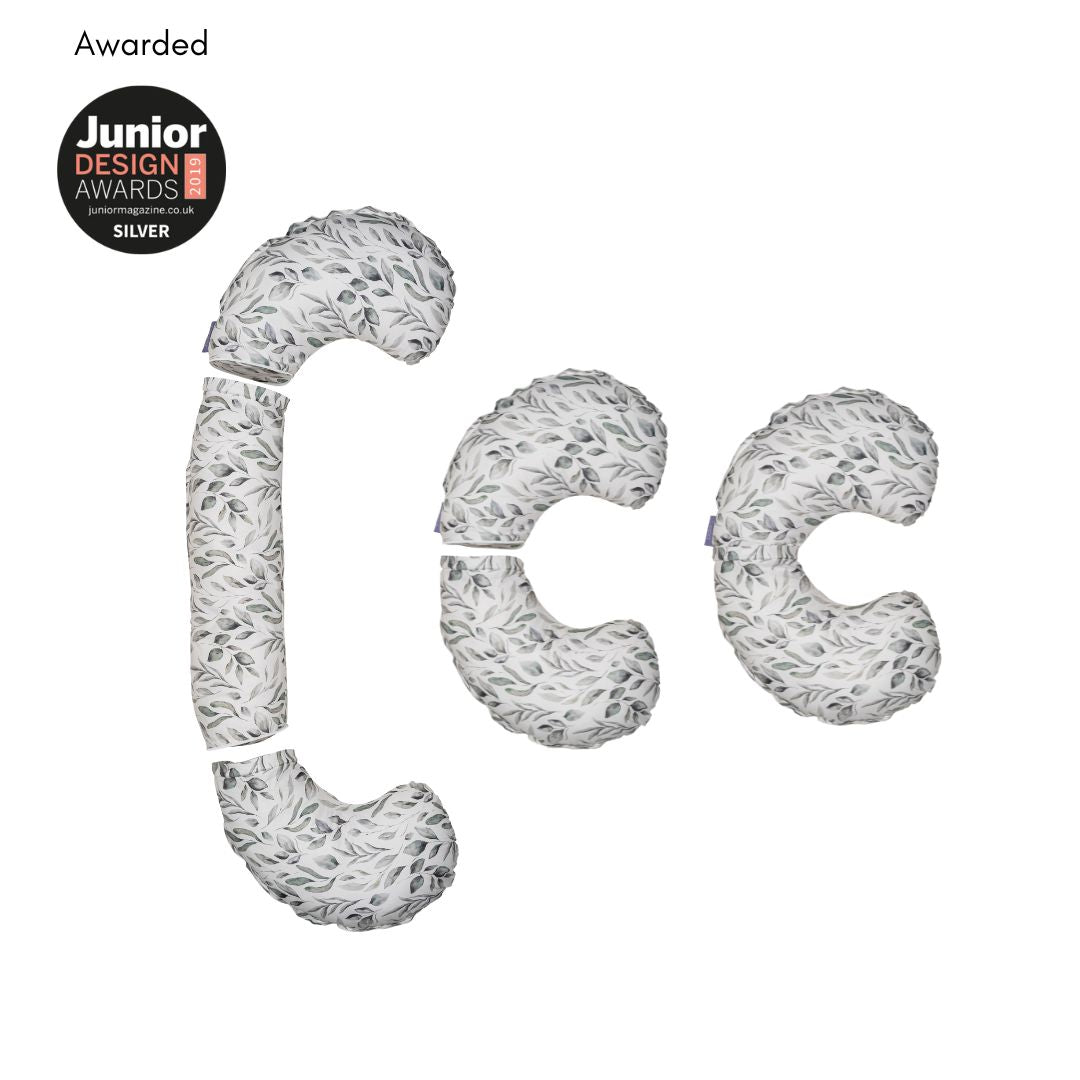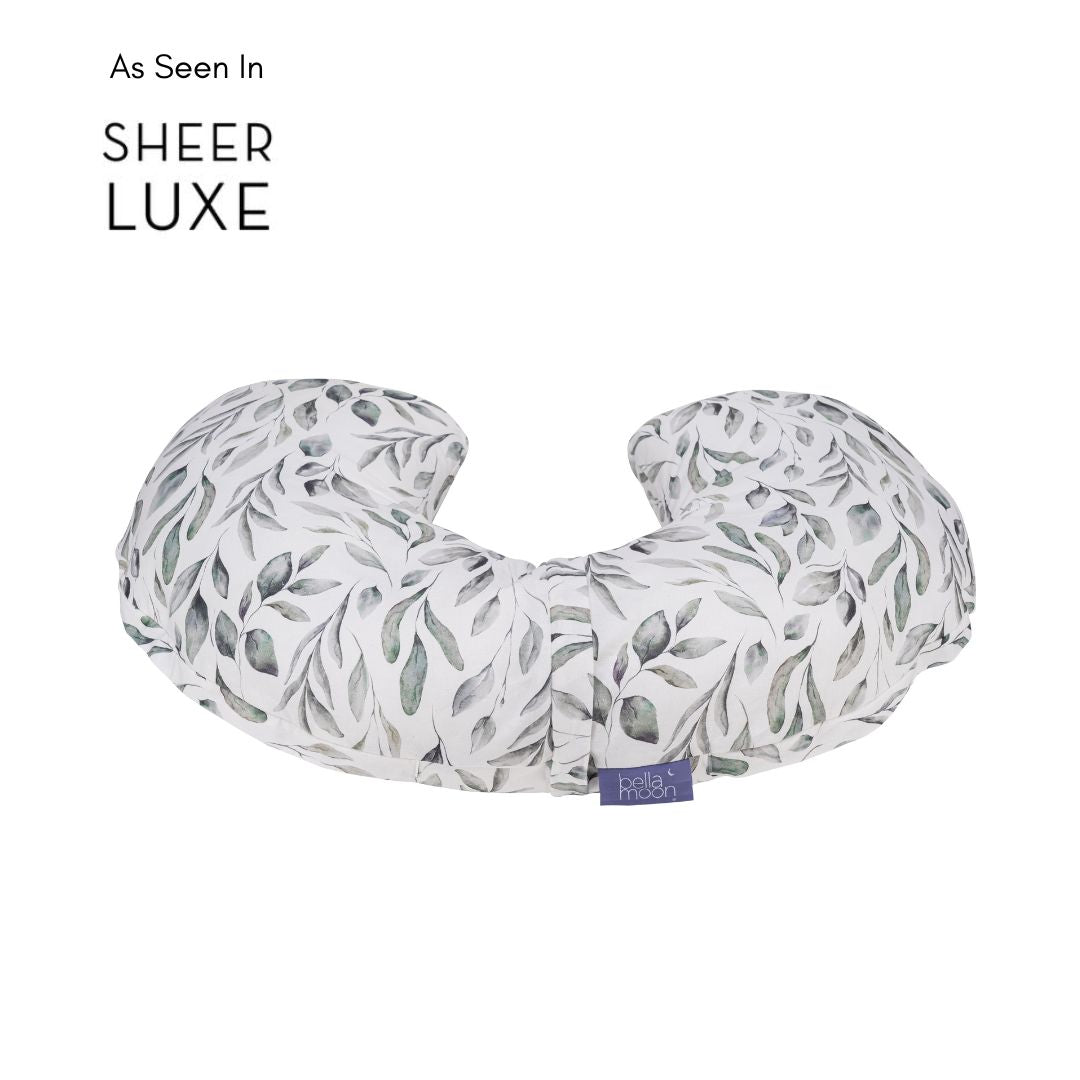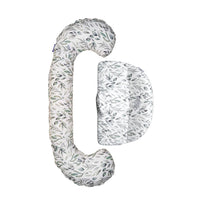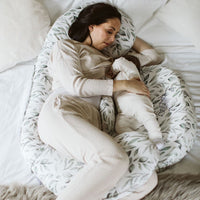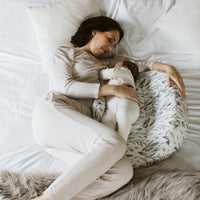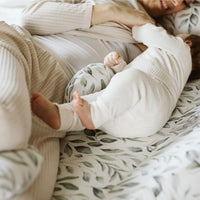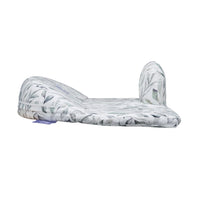 Pregnancy & Nursing Cocoon (5-in-1) - Waterleaves
Relax into your pregnancy and breastfeeding journey with the worlds exclusive 'Lie-Down Breastfeeding Cocoon' - where you can lie back, relax and nourish your baby as you sink into the intense comfort of the Pregnancy pillow supporting your love-laden limbs.  As you lie next to baby, the unique patented Anti-Roll features of the Nursing Nest will guard baby's space, and a firm mattress pad help to raise baby up to Mothers breast to support latch.

What you'll get:
The Cocoon supports you on your journey all the way from pregnancy to over 1 year of age with your baby. It is made up of;
- The 3-in-1 Pregnancy Pillow
- Nursing Nest

The 3-in-1 Pregnancy Pillow
The BellaMoon Pregnancy Pillow has been ergonomically designed to provide intense comfort to you and your growing bump throughout your pregnancy, specifically targeting those pain prone areas and providing support to pressure points in your neck, back and hips.
It's unique modular design means that it transforms into an Upright Feeding Pillow and a Sitting-Up Support Pillow when baby arrives.
Nursing Nest
Developed by a mum for mums, our award winning Nursing Nest is designed to allow you to relax in comfort as you lie down to breastfeed your baby all with peace of mind provided by our patented Anti-Roll Finn and Barrier. 
The Nursing Nest can be used on its own, but is designed to be used in conjunction with the Pregnancy Pillow to form the ultra comfortable Cocoon.
(This product does not contain the Nursing Cover/Base Sheet. if you wish to purchase The Nursing Cover with your Cocoon check out our 6 in 1 bundle, see The Full Moon 6-in-1 Bundle)
There are 5 different functions of BellaMoon 5in-1 Cocoon, all of which are suitable for use at different stages of a baby's life, from pregnancy through to over 1 year old.
- Pregnancy Pillow
- Lie-Down Cocoon
- Lie Down Nursing Nest
- Upright Nursing Pillow
- Sitting Up Nursing Support
When your baby arrives, simply attach the Lie-Down Nursing
Nest to form the beautiful cocoon exclusively patented by BellaMoon.
The baby's side of the Cocoon is called the Nursing Nest - which features a firm but comfortable mattress base. This raises baby up closer to the breast while the side lying position naturally encourages a deep and comfortable latch.
The side lying position is often recommended, as its calming and relaxing affect can increase the secretion of hormones that help with milk production.
The Nursing Nest is especially useful for Mamas with an oversupply or a forceful let down, as gravity allows the milk to drip down and reduces a heavy flow.
Our covers are completely removable and machine-washable so no need to worry about leaks and spills.
C-Shaped Design for optimum side-lying position during pregnancy.
100% cotton outer covers, air-dried for extra softness
Inner Pillows fully breathable polyester fibre.
Anti-allergy materials to protect against bacteria.
Medium firmness 5/10 - ideal for pregnancy under bump and hip support.
Massage, fluff and plump by hand to expand and maintain fullness.
All materials are OEKO-TEX certified.
Central Pillow Segment - 75cm
Each End Pillow Segment - 40cm
Total Pillow Length - 155cm
Nursing Nest - 75cm long x 47cm wide
Sustainability goes to the very core of BellaMoon.
Our pillows are vacuum packed in recycled and recyclable plastic to help reduce our impact on the world.
Our cardboard boxes are all fully recyclable.
Our spare covers are also a great way to re-purpose your BellaMoon for passing on to other Mothers.
Independently tested in expert International Lab.
Meets all required British Standards, USA CPSIA and EU Standards for Air Permeability, Flammability, Chemical-Free Tests and Wash Tests and more.
For detailed guidance on how to safely use BellaMoon, visit
Detailed safety guidance – Bellamoon

Baby should never be left unsupervised in any part of BellaMoon.
Lovely place to lie down and feed
Lovely place to lie down and feed, plus all the other uses during pregnancy and sitting up to nurse. Brilliant and so many uses. Has to be our most versatile and most used baby item right through from early pregnancy